Retain the Best as the Employer of Choice
Enhancing your Nurse Residency program with proven tools to support leaders, preceptors and nurse residents.
Are you struggling to retain nurses, balance cost, and ensure quality?
Between 2015 and 2020, the average hospital has turned over 89% of its workforce and lost $3.6 – $6.1 million annually, according to NSI. This issue alone can put an organization out of business. We've proven a sustainable improvement on nurse retention over 4+ years across multiple sites. Given the competitive marketplace and high cost of temporary expand-content, you need a proven solution that is molded around your organization's DNA.
Our Tools. Your Nurse Residency Program.
Our proven nurse residency tools provide organizations with the educational scaffolding required to progress a new nurse's knowledge, skills, attitudes, and critical thinking. Stand out from the crowd with a unique preceptor development program in partnership with Sigma, an unlimited CE library to promote lifelong learning, cohort insights with benchmarks, personalized, specialty-based development plans, and more.
The beauty of this program is the blended learning model. We used a combination of lectures from our internal experts, online courseware from HealthStream and its content partners, and group discussions guided by a facilitator, an educator, or one of our nurse leaders.
Michelle Hammerly, Regional Director of Education
CHRISTUS Southeast Texas St. Elizabeth
"We have really attracted the cream of the crop of nurses, who know that we have high standards."
Sherry Roberson, Director of Professional Excellence
CHRISTUS St. Michael
"What we found with our data is just amazing. At the 6-month mark, our confidence scores went way up for our cohorts."
Dawn Weed, PD Specialist
San Luis Valley Health
Program Features
The Informed Residency Leader
Cohort Insights on Knowledge, Skills, Attitudes, Critical Thinking & Confidence
Individual Resident Competency Profiles with Assessment Results
Intelligent Recommendations and One-Click Development Plans
Community of Practice & Template Library
Comprehensive Implementation & Optional Coaching
Resources aligned to the five domains of PTAP®: Program Leadership, Quality Outcomes, Organizational Enculturation, Development & Design, and Practice-based Learning
The Competent Preceptor
5 Interactive e-Learning Modules
Many Videos with Communication & Decision-Making Scenarios
Behavioral Assessment for Matchmaking
Optional Skills Validation via eChecklist
In Partnership with Sigma & Based on the Work of Beth Ulrich
The Engaged Nurse Resident
Evidence-based e-Learning Aligned to QSEN & ANCC
Individualized Development Plans based on Specialty
Unlimited Interprofessional CE to Promote
Lifelong Learning
Community for Reflective Practice
Professional ePortfolio to Inspire Engagement
Get Started with HealthStream's Nurse Residency to:
Sustainably Reduce Turnover
Successfully Achieve PTAP Accreditation
Individualize Competence & Grow Confidence
Creating a Path for New Nurses to Become Safe, Competent and Confident Practitioners
As healthcare leaders and educators, we know that newly graduated nurses need help connecting the dots. They need a safe and nurturing environment in which to learn, with a preceptor who remembers what it was like to transition into practice. It's easy to miss the details given busy schedules, tremendous responsibilities and competing priorities.

Our job is to help bolster your new nurse onboarding or residency program. We've worked with hundreds of organizations to improve nurse retention over multiple years, individualize competency development, improve HCAHPS and resident satisfaction, support residency leaders through accreditation, and dramatically grow resident confidence.
Based on the latest 2020 survey by NSI, the top reason nurses left their organization was for career advancement, followed by personal reasons, relocation, salary, retirement, scheduling, and workload/expand-contenting ratios. Particularly as millennials become the majority of the workforce, it's critical that organizations foster a culture of career development from day one. Nursing leaders have a goal in 2020 to reduce turnover by 3.7%, which equates to $1.1M in annual savings on average with only a 1.3% goal achieved in 2019.

Are you looking to retain the best as the employer of choice? Enhance your Nurse Residency program with proven tools to support the residency leader, the preceptor and the resident. Leverage a unique preceptor development program, an unlimited CE library, cohort insights and benchmarks, personalized, specialty-based development plans, and more.
As a healthcare leader, are you:
Looking to improve nurse retention over the first five years?
Feeling uncertain about whether your new nurses are practicing safely?
Frustrated by all of the manual work required to run your residency program?
Looking to bolster your residency program given the new requirements?
Nurse Residency Program Earns Two Brandon Hall Excellence in Technology Awards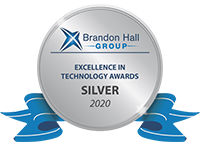 Silver Medal
Best Advance in Onboarding Technology - Nurse Residency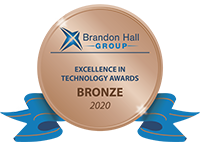 Bronze Medal
Best Advance in Emerging Learning Technology - Nurse Residency
The winners were announced on December 10, 2020 and are listed here.
Request A Demo
Find out how we can help you sustainably reduce nursing turnover. Since culture plays a significant role in the success of any Nurse Residency program, our resources are molded around your organization's DNA, boosting your reputation as an employer of choice.